Maternity Sessions

MATERNITY SESSIONS
Maternity sessions images are so special!  You can feel the beauty and power that is a mother's love in these style of images.   In these sessions we focus on capturing the excitement that surrounds pregnancy.  Our goal is to highlight the organic beauty of the pregnant body while honoring the powerful bond that has already formed between mother and child.  Every client has their own preference as to how much belly/skin they would like to show.  Form fitting fabrics that show off the curve of the belly work well for mommies who prefer to stay covered.  Opaque gowns and dresses, drapery, flattering ballet styled pieces, and even tasteful fine-art nudes are all wonderful for these sessions.
Maternity sessions are usually best photographed when mom is 30-34 weeks along, or 28-32 weeks for multiples.  We want to catch the phase when you have an obvious round belly but not be so far along that you are uncomfortable or at risk of going into labor before your session's schedule time.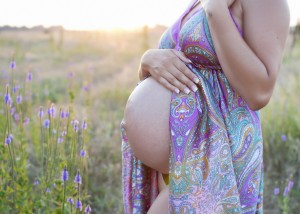 Ready to book your belly session?
We'd be honored to be part of this exciting time in your life! Please contact us and we'll chat about our availability and let you know what the steps are for locking in your session and preparing for this special once in a lifetime session.  Thank you for considering us for your maternity portrait needs!  It is a privilege to help you celebrate this special time for your soon-to-be growing family!

This photo is copyright protected